This year is nearing it's end, we're only hours away from 2015. And what a year it was. So many new books that came out, and so many we loved! That's why we put together a top 10 of books came out in 2014 that we loved. Buckle up, it's gonna be an emotional ride.
1. Isla and the Happily Ever After
Hopeless romantic Isla has had a crush on introspective cartoonist Josh since their first year at the School of America in Paris. And after a chance encounter in Manhattan over the summer, romance might be closer than Isla imagined. But as they begin their senior year back in France, Isla and Josh are forced to confront the challenges every young couple must face, including family drama, uncertainty about their college futures, and the very real possibility of being apart.
Featuring cameos from fan-favorites Anna, Étienne, Lola, and Cricket, this sweet and sexy story of true love—set against the stunning backdrops of New York City, Paris, and Barcelona—is a swoonworthy conclusion to Stephanie Perkins's beloved series.
2. Silver Shadows by Richelle Mead
Sydney Sage is an Alchemist, one of a group of humans who dabble in magic and serve to bridge the worlds of humans and vampires. They protect vampire secrets—and human lives.
In The Fiery Heart, Sydney risked everything to follow her gut, walking a dangerous line to keep her feelings hidden from the Alchemists.
Now in the aftermath of an event that ripped their world apart, Sydney and Adrian struggle to pick up the pieces and find their way back to each other. But first, they have to survive.
For Sydney, trapped and surrounded by adversaries, life becomes a daily struggle to hold on to her identity and the memories of those she loves. Meanwhile, Adrian clings to hope in the face of those who tell him Sydney is a lost cause, but the battle proves daunting as old demons and new temptations begin to seize hold of him…
Their worst fears now a chilling reality, Sydney and Adrian face their darkest hour in this heart-pounding fifth installment in the New York Times bestselling Bloodlines series, where all bets are off.
3. Full Measures by Rebecca Yaros
Three knocks can change everything…
"She knew. That's why Mom hadn't opened the door. She knew he was dead."
Twenty years as an army brat and Ember Howard knew, too. The soldiers at the door meant her dad was never coming home. What she didn't know was how she would find the strength to singlehandedly care for her crumbling family when her mom falls apart.
Then Josh Walker enters her life. Hockey star, her new next-door neighbor, and not to mention the most delicious hands that insist on saving her over and over again. He has a way of erasing the pain with a single look, a single touch. As much as she wants to turn off her feelings and endure the heartache on her own, she can't deny their intense attraction.
Until Josh's secret shatters their world. And Ember must decide if he's worth the risk that comes with loving a man who could strip her bare.
4. Addicted After All by Krista & Becca Ritchie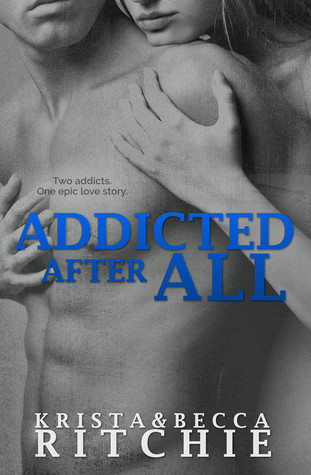 Two addicts. One epic love story.
Prepare for the worst.
That's what Lily and Lo try to do when Jonathan Hale schedules an "important" meeting. The problem: after being swept into the public eye and battling their addictions, they're not sure what the worst is anymore.
In a sea of many changes—including Ryke & Daisy living with them—Lily realizes that the best part of her fluctuating hormones might just be the worst.
Her sex drive is out of control.
Loren knows that she's insatiable, but he's not giving up on her. She's too much a part of him. And as he carries more and more responsibility, some of the people that he loves doubt his resolve.
In the conclusion to their love story, Lily & Lo stand side-by-side to fight, one last time, for their happily ever after.
5. The Retribution of Mara Dyer by Michelle Hodkin
Mara Dyer wants to believe there's more to the lies she's been told.
There is.
She doesn't stop to think about where her quest for the truth might lead.
She should.
She never had to imagine how far she would go for vengeance.
She will now.
Loyalties are betrayed, guilt and innocence tangle, and fate and chance collide in this shocking conclusion to Mara Dyer's story.
Retribution has arrived.
The conclusion of the mysterious, intriguing and thrilling trilogy that had everyone wondering if they had completely lost their minds.
6. We Were Liars by E. Lockhart
A beautiful and distinguished family.
A private island.
A brilliant, damaged girl; a passionate, political boy.
A group of four friends—the Liars—whose friendship turns destructive.
A revolution. An accident. A secret.
Lies upon lies.
True love.
The truth.
We Were Liars is a modern, sophisticated suspense novel from National Book Award finalist and Printz Award honoree E. Lockhart.
Read it.
And if anyone asks you how it ends, just LIE.
The perfect stand-alone that made our summer more interesting and heartbreaking. It gave us our share of Summertime Sadness, for sure.
7. City of Heavenly Fire by Cassandra Clare
In this dazzling and long-awaited conclusion to the acclaimed Mortal Instruments series, Clary and her friends fight the greatest evil they have ever faced: Clary's own brother.
Sebastian Morgenstern is on the move, systematically turning Shadowhunter against Shadowhunter. Bearing the Infernal Cup, he transforms Shadowhunters into creatures out of nightmare, tearing apart families and lovers as the ranks of his Endarkened army swell.
The embattled Shadowhunters withdraw to Idris – but not even the famed demon towers of Alicante can keep Sebastian at bay. And with the Nephilim trapped in Idris, who will guard the world against demons?
When one of the greatest betrayals the Nephilim have ever known is revealed, Clary, Jace, Isabelle, Simon, and Alec must flee – even if their journey takes them deep into the demon realms, where no Shadowhunter has set foot before, and from which no human being has ever returned…
Love will be sacrificed and lives lost in the terrible battle for the fate of the word in the thrilling final installment of the classic urban fantasy series The Mortal Instruments!
8. I'll Give You the Sun by Jandy Nelson
A brilliant, luminous story of first love, family, loss, and betrayal for fans of John Green, David Levithan, and Rainbow Rowell
Jude and her twin brother, Noah, are incredibly close. At thirteen, isolated Noah draws constantly and is falling in love with the charismatic boy next door, while daredevil Jude cliff-dives and wears red-red lipstick and does the talking for both of them. But three years later, Jude and Noah are barely speaking. Something has happened to wreck the twins in different and dramatic ways . . . until Jude meets a cocky, broken, beautiful boy, as well as someone else—an even more unpredictable new force in her life. The early years are Noah's story to tell. The later years are Jude's. What the twins don't realize is that they each have only half the story, and if they could just find their way back to one another, they'd have a chance to remake their world.
This radiant novel from the acclaimed, award-winning author of The Sky Is Everywhere will leave you breathless and teary and laughing—often all at once.
9. Until Nico (Until #4) by Aurora Rose Reynolds  
Sophie Grates has never had it easy, but she's finding her way through life one step and one day at a time. That is, Until Nico comes in and flips her world upside-down. He forces her to see you cannot live life from the outside looking in, and sometimes you have to step out onto the ledge so you can really enjoy the view.
Nico Mayson knew the moment he saw Sophie Grates that she was the one. His whole life, he has been judged by what's on the outside, so finding a beautiful woman who sees the real him only makes his feelings that much stronger.
Nico knows the kind of man he is, and the things he is capable of, and he will do everything in his power to help Sophie fight her demons so they can have their happily ever after. Everything in life worth having is worth fighting for.
10. Amour Amour by Krista and Becca Ritchie 
"Every day," he says lowly, "I hold a person's life in my hands. The circus is based one-hundred percent off trust. I give it all to someone, and they give it all to me."
The best aerial technique won't land 21-year-old Thora James her dream role in Amour—a sexy new acrobatic show on the Vegas strip. Thora knows she's out of her element the second she meets Amour's leading performer. Confident, charming and devilishly captivating, 26-year-old Nikolai Kotova lives up to his nickname as the "God of Russia."
When Thora unknowingly walks into the crosshairs of Nikolai's after-show, her audition process begins way too soon. Unprofessional. That's what Nik calls their "non-existent" relationship. It's not like Thora can avoid him. For one, they may be partners in the future–acrobaticpartners, that is. But getting closer to Nik means diving deeper into sin city and into his dizzying world. Thora wants to perform with him, but when someone like Nikolai attracts the spotlight wherever he goes—Thora fears that she's destined to be just background to his spellbinding show.