Thank God It's Friday! Which means time for a good book! Don't you know what to read this weekend? No fear, we have some killer recommendations for you. Which one do you want to read this weekend?
Paula's pick: An Abundance of Katherines by John Green
Summary:
Katherine V thought boys were gross
Katherine X just wanted to be friends
Katherine XVIII dumped him in an e-mail
K-19 broke his heart
When it comes to relationships, Colin Singleton's type happens to be girls named Katherine. And when it comes to girls named Katherine, Colin is always getting dumped. Nineteen times, to be exact.
On a road trip miles from home, this anagram-happy, washed-up child prodigy has ten thousand dollars in his pocket, a bloodthirsty feral hog on his trail, and an overweight, Judge Judy-loving best friend riding shotgun–but no Katherines. Colin is on a mission to prove The Theorem of Underlying Katherine Predictability, which he hopes will predict the future of any relationship, avenge Dumpees everywhere, and finally win him the girl. Love, friendship, and a dead Austro-Hungarian archduke add up to surprising and heart-changing conclusions in this ingeniously layered comic novel about reinventing oneself.
Why should you read this book?
This is probably the funniest John Green book, and also so underrated. Everyone talks about TFIOS and Looking for Alaska but so little talk about this one…
Anyway, the characters are so natural and relatable even though they are completly weird and different from you. An maybe the story is not something that would happen to you on your day to day life but you can learn a lot from this story, not only maths (that you do learn them trust me) but lessons that will stay with you for life.
Alex's pick: Shatter Me by Tahereh Mafi
Summary:
I have a curse
I have a gift
I am a monster
I'm more than human
My touch is lethal
My touch is power
I am their weapon
I will fight back
Juliette hasn't touched anyone in exactly 264 days.
The last time she did, it was an accident, but The Reestablishment locked her up for murder. No one knows why Juliette's touch is fatal. As long as she doesn't hurt anyone else, no one really cares. The world is too busy crumbling to pieces to pay attention to a 17-year-old girl. Diseases are destroying the population, food is hard to find, birds don't fly anymore, and the clouds are the wrong color.
The Reestablishment said their way was the only way to fix things, so they threw Juliette in a cell. Now so many people are dead that the survivors are whispering war – and The Reestablishment has changed its mind. Maybe Juliette is more than a tortured soul stuffed into a poisonous body. Maybe she's exactly what they need right now.
Juliette has to make a choice: Be a weapon. Or be a warrior.
Why should you read this book?
If you are looking for a great dystopian narration this book may not be for you, but if you are looking for a poetic and well-written read, go get Shatter Me as soon as you can. This book can be described as the journey Juliette, our main character, does from Shatter Me to Ignite Me, the last book in the series.
So, as much as it doesn't really focus on world building and politics, it focuses on Juliette's life. This makes it such an emotional, powerful and beautiful read that you will be crying and shouting how proud you are of the characters from the top of your lungs.
"I spent my life folded between the pages of books. In the absence of human relationships I formed bonds with paper characters. I lived love and loss through stories threaded in history; I experienced adolescence by association. My world is one interwoven web of words, stringing limb to limb, bone to sinew, thoughts and images all together. I am a being comprised of letters, a character created by sentences, a figment of imagination formed through fiction."
Amy's pick: The Iron King (The Iron Fey #1) by Julie Kagawa
Summary:
Meghan Chase has a secret destiny; one she could never have imagined.
Something has always felt slightly off in Meghan's life, ever since her father disappeared before her eyes when she was six. She has never quite fit in at school or at home.
When a dark stranger begins watching her from afar, and her prankster best friend becomes strangely protective of her, Meghan senses that everything she's known is about to change.
But she could never have guessed the truth – that she is the daughter of a mythical faery king and is a pawn in a deadly war. Now Meghan will learn just how far she'll go to save someone she cares about, to stop a mysterious evil, no faery creature dare face; and to find love with a young prince who might rather see her dead than let her touch his icy heart.
Why should you read this book?
I don't even know why you haven't read it yet, it's brilliant! Julie is an artist with words, characters and storylines. It's one of my favorite series and that's why I think you should read it.
Meghan has always been the outsider at school, but suddenly her little brother gets kidnapped… and her best friend knows where he's taken… to Never Never. The land of the faerie. On her quest to save her brother she finds out she's the  daughter of mythical faery king Oberon, her best friend is no other than Robin Goodfellow from A Midsummer Night's Dream and every creature who you've read about in the books, exists. And on top of that, she meets a gorgeous prince.. and well, we all know what happens when you meet a good-looking guy who happens to be a prince.
I read it a while ago, but it's still unlike anything I've ever read. It's original, funny, heartwrenching, intense and it leaves you craving for more. Will she find her brother? Will she ever go home again? Will she ever accept that she's half-faerie or that her best friend lied to her her entire life? Questions like these make you want to read on and please, do, because Meghan is a great character and Robin is one of the best sidekick characters ever.
Rheeza's pick: Rule (Marked Men #1) by Jay Crownover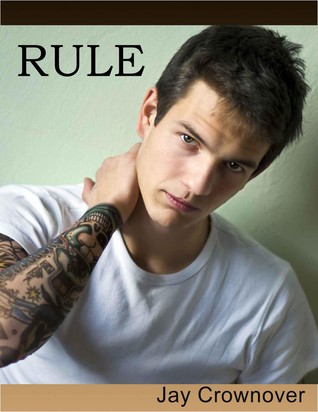 Summary:
Opposites in every way . . . except the one that matters
Shaw Landon loved Rule Archer from the moment she laid eyes on him. Rule is everything a straight-A pre-med student like Shaw shouldn't want—and the only person she's never tried to please. She isn't afraid of his scary piercings and tattoos or his wild attitude. Though she knows that Rule is wrong for her, her heart just won't listen.
To a rebel like Rule Archer, Shaw Landon is a stuck-up, perfect princess-and his dead twin brother's girl. She lives by other people's rules; he makes his own. He doesn't have time for a good girl like Shaw-even if she's the only one who can see the person he truly is.
But a short skirt, too many birthday cocktails, and spilled secrets lead to a night neither can forget. Now, Shaw and Rule have to figure out how a girl like her and a guy like him are supposed to be together without destroying their love . . . or each other.
Why should you read this book?
For all the readers out there who love bad boy romance, well this is the best book for you! It is raw, angsty, sexy and fun. It is one of those books that is impossible to put down. I don't even know why I have waited for so long to read it cause HOLY HOT TATTOOED GUYS it is so good! The best thing about it is the characters! All of them are so interesting and great and their friendship is squad goal, I love them so much ok! I devoured the entire series in one week cause yes, it is that awesome. The story is 10/10. It shows that two completely different people could totally fall for each other, how despite of every mistakes and challenges they've encountered they choose to fight for something they believe in. They're both imperfect and it is beautiful to see because it is a proof that we're all humans. I'm just happy that I read it really I wanna puke rainbows and cry tears of gold. And that closing line?
Look at me being all optimistic and shit.
Remy would be so proud.
It is such a Rule Archer thing to say lol I wanna squish him *sighs fondly and smiles like an idiot*
So I am telling you guys, read it and fall in love with these amazing characters and their beautiful stories!  I swear you will thank me later. 😉
Manu's pick: Everything Leads to You by Nina LaCour
Summary:
A love letter to the craft and romance of film and fate in front of—and behind—the camera from the award-winning author of Hold Still.
A wunderkind young set designer, Emi has already started to find her way in the competitive Hollywood film world.
Emi is a film buff and a true romantic, but her real-life relationships are a mess. She has desperately gone back to the same girl too many times to mention. But then a mysterious letter from a silver screen legend leads Emi to Ava. Ava is unlike anyone Emi has ever met. She has a tumultuous, not-so-glamorous past, and lives an unconventional life. She's enigmatic…. She's beautiful. And she is about to expand Emi's understanding of family, acceptance, and true romance.
Why should you read this book?
First of all the cover! I mean this is probably my favorite cover ever, the coloring, the picture, the font, everything is beautiful. The writing style! This is the only book by Nina LaCour that I've read so far, and her style drew me in so much. The setting! Through the whole book we get an insight on the incredible world of film-making, and it's explained so accuratly, and passionatly, because Emi really loves what she does. The plot! There's a lot going on for these characters, and it never gets borning. The characters! My, oh my, how much I loved this characters! Emi is such an interesting girl. She just broke up with her on-off-on-off girlfriend, so she's not in the best place, but you'll see her growing up with every page. Ava is a mysterious character, beautiful and unique. The romance! This is a beautiful love story, it made me so happy, I'm smiling just thinking about it. And something I really loved is that, Emi likes girls, but that wasn't emphasized too much it was simply a fact; I think it was beautiful to show how simple it can be, that love is love no matter what. Trust me with this one, you'll love it!