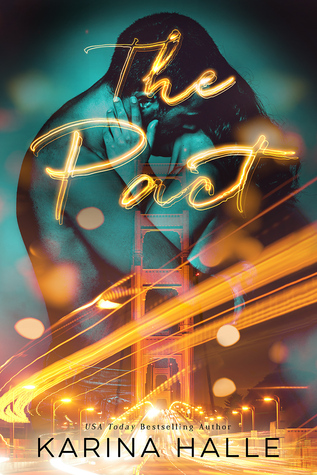 Summary:
It all started with a pinky swear…
Linden McGregor is tall, rugged, and gunslinger handsome; a helicopter pilot with a Scottish brogue and charm to spare. He's also one of Stephanie Robson's best friends and has fit into that box for as long as she's known him.
But some relationships can't be boxed, can't be classified, can't be tamed.
Back in their mid-twenties and tired of the competitive hit-or-miss dating scene of San Francisco, Steph and Linden made a pact to marry each other if neither one of them are in a serious relationship by the time they hit thirty.
It sounds like fun and games but as the years to thirty tick past and lovers come and go out of their lives, the pact becomes larger than life.
Sex is inevitable. Friendships are tested. Hearts are on the line.
The pact is about to change everything.
Review:
The Pact is a hard for me to rate. It's a book that I really really wanted to love but I didn't. Don't get me wrong, the story, the writing, the pace and the flow of events are all great. It was light, fun, and steamy with a bit of drama along the way. But I don't know, I just felt disconnected with the characters. It is a friend-to-lovers trope and I think for me to like it I have to be invested and convinced of their friendship and sadly, that didn't happen for me with the Pact.
In a nutshell, Linden and Stephanie are bestfriends and both are having difficulty finding the perfect person for them, so they decided to make a drunken pact that if they don't find anyone at the age of thirty they will get married. As the years go by, they couldn't resist the attraction between them anymore and so they gave in but they decided to keep it a secret because they're afraid they might hurt their other bestfriend, James (the ex-boyfriend of Stephanie who can be an ass at times). However, true feelings was revealed and Linden chose to let Stephanie go for James. And that is where I freaking hated everything else. 9 years Linden harbored feelings for her but he didn't do anything and when it matters most he didn't fight for her, he just gave up.
"I don't think Linden knows what fighting is," he (James) says.

"Maybe not. Maybe he does. But I think I deserve that. Someone to fight for me. To believe in me. And trust in love. Sounds cheesy but… once you have love, you have to trust."
Linden needs to grow some pairs. James needs to fucking grow up. Stephanie needs to stay awesome. I love her. So overall, this is a well-written book but doesn't wow me and the last 20% of the book makes me want to pull my hair out. But I love Karina Halle so I'm still looking forward to read her other books.