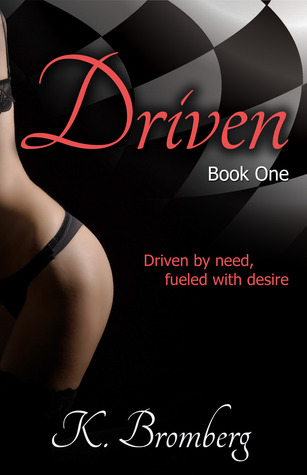 Summary: Rylee Thomas is used to being in control. But she's about to meet the one man that just might make her enjoy losing it… I am the exception to the rule. In a world full of willing women, I'm a challenge to the roguish and achingly handsome Colton Donavan. A man used to getting exactly what he wants in all aspects of life. He's the reckless bad boy constantly skating that razor thin edge toward out of control, on and off of the track. Colton crashes into my life like a tornado: sapping my control, testing my vulnerabilities beyond their limits, and unintentionally penetrating the protective wall around my healing heart. Tearing apart the world I rebuilt so carefully with structure, predictability, and discipline. I can't give him what he wants and he can't give me what I need. But after a glimpse beneath his refined exterior into the dark secrets of his damaged soul, can I bring myself to walk away? Our sexual chemistry is undeniable. Our individual need for complete control is irrefutable. But when our worlds collide, is the chemistry enough to bring us together or will our untold secrets and battle of wills force us apart?
Review:
**3.25 SWEET TORTURED STARS**
Rylee Thomas:
"Let's face it, you're not a spend the night kind of guy, and I'm not a one-night stand kind of girl."
Colton Donavan:
"The man is captivating in every way and the epitome of sexy. From that boyish grin that disarms me in seconds to his sexy swagger that says he knows exactly where he's going and what his intentions are. He exudes virility, evokes desire, and commands attention all with a single look from his stunning eyes. He's edgy and reckless and you want to go along for the ride hoping to get a glimpse of his tender side that breaks through every now and again. The bad boy with a touch of vulnerability who leaves you breathless and steals your heart."
Hi! Rheeza here! I've wanted to read this books since forever but I don't know why it always gets pushed back. Thank fuck I finally made the decision to start it! However, I have to admit that it is one of those types of book that you'll like better as it progress. The beginning was a bit awkward and there are some parts that are worthy of major eye rolls but unexpectedly, it hooked me until I had to stay up all night to finish it and grabbed the second book like my life depended on it!
It started off by Rylee meeting and falling over Colton and yes I meant that literally. She got trapped in the storage closet at her work function charity auction and her claustrophobia kicks in, fortunately Colton saves the day and she falls out into his arms. Immediately, they felt the sexual tension and started kissing! (I know, wtf right? That was a bit fast haha), but then she comes to her senses and realizes who he is, so she pushes him away. Not used to being told no, he made it his mission to pursue her. Because Rylee is determined not to be part of his growing list of conquests despite his irresistible hotness, the sassy bickering and banters ensued. At first, in that moment of the book, he is coming off a little too tacky and I regret judging him because believe me, at the end of all this, you would want to build an army to protect him at all cost with you doing the battle cry and leading it.
Rylee Thomas is independent, sassy, feisty woman with a selfless heart. She worked for an organization that helps orphaned children. The affection she has for the boys under her responsibility was greatly depicted and it is one of the reasons why I love her. And the fact that that storyline was not only used as background gave K. Bromberg a bonus star from me. She's kind and smart. But she also has a tragic past that prevents her from truly feeling and living. She is attracted to Colton but she knows that the famous race car driver is a player with a capital P and just wants her because he thinks she is a challenge. He continues to be persistent to having her but then he also keeps warning her about himself.  So yep, brace yourself for the onslaught of whiplash folks. The "I want him but he's bad for me, I need her but she should stay away" thing can be a bit frustrating but to be honest it is not to the point that I wanted to punch some sense into the characters. I'm not going to lie, Colton was really confusing with the cold and hot attitude but I get him. HOWEVER, I am certainly not excusing some of his mistakes and cutting words. I'm just saying I understood what prompted them. The weight of Colton's past was really tangible. I felt myself suffocating while reading what he was going through even though it hadn't been revealed yet. This is the proof that K. Bromberg was able to create characters that are imperfectly perfect that readers couldn't helped but be deeply invested in. Plus, after learning what that baggage was (you have to read the second book to know), I really wanted to fucking do anything to comfort him. Despite of this, Rylee thinks that she can make a break through to him. I was in awe for her strength to cling to that believed regardless of Colton being mercurial. Big props that the author was able to write a female heroine that is assertive and strong yet not cold-hearted but one who takes other's feelings and experience into consideration. She knows when to be vulnerable and when to stand her ground when it matters.
"I will not be inconsequential, Colton. To you or to anyone else."
I guess the fact that Rylee is a counselor helped her learn how to handle Colton.  Seeing how she draws out a side of him he never lets open to anyone else is what kept me going. A reckless bad boy with a dirty dominant mouth but soft inside is my weakness, and Colton Donavan has that in ace! (Ace is what Rylee calls him so yup pun intended *wink*)
"I'm seeing the true Colton Donavan – the unmasked version with a vulnerability that makes me want to reach over and take the hurt that often flickers through those green eyes and make it better. To show him that love and commitment are possible without complications. That it is real and pure and much more powerful than ever imagined with it is built and shared between two people."
The characters are vulnerable and flawed, which brought a sense of genuineness. Combine that with a combustible chemistry and intense love scenes then hell yes I'm a happy reader!
"I bet he fucks like he drives— a little reckless, pushing all the limits, and in it until the very last lap."
Overall, Driven has a good storyline that has a potential to be great that I couldn't wait to read the next one! And btw,  that cliffhanger?? Seriously?? That nearly killed me and left me desperate for more!
P.S I will be forever grateful for the image of Colton Donavan in his driver jumpsuit. So thank you K. Bromberg. –