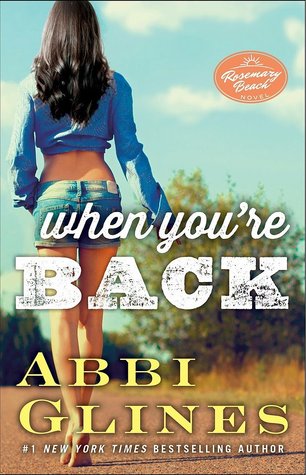 Summary:
The future is bright for Reese Ellis. She has Mase Colt-Manning, the man of her dreams, and a family she didn't know existed until her long-lost father arrived on her doorstep in Rosemary Beach. After growing up with a cruel mother and abusive stepfather, Reese is eager to get to know the caring and charming man who wants to be a part of her life. Everything is finally falling into place.
While Reese is visiting her new family in Chicago, Mase spends time with his "cousin," Aida, who has worshipped him since childhood. Though they're unrelated by blood, Mase and Aida have been raised to think of each other as family. But when Reese returns, she can tell something isn't quite right with Aida, who clearly resents Reese and excels at manipulative little games. And though Mase is unsuspecting, Reese knows Aida doesn't love him like a cousin should…
Review:
Rosemary Beach series is one of the few series that book after book never disappoints. Once again, I fell head over heels in love with the characters and I was truly captivated by their story. Yep. Abbi Glines did it again! Seriously, I love everything she writes and most likely always will.

Mase Colt Manning. I love him. I really do. Mase is a lovable charming guy. He is sweet, sexy, honest and caring. He made some mistakes, but he is real and still amazing.
"She's my happiness. My reason for waking up in the morning. She is every smile on my face. That's it. Nothing will change that."
Reese Ellis. She has come a long way. She is even stronger now than she has ever been. I loved seeing her growth, her strength.
"I knew you were special," he replied. "Just like me." Those words sank into my heart, and I knew they'd stay there forever.
It was also so goooood seeing all our old favorite characters back! Rush Finaly and Grant Carter *sigh* I swoon everytime they make an appearance. But Kiro and Emily… my heart hurts for them. Their story was so heartbreaking… I can't… It makes me really sad. I desperately want them to have their happily ever after too.

However, we also meet new (well sort of) people who all play a pretty large part in the story. There was one character *coughs* Aida *coughs* that bugged me a little more than the rest, well, the whole situation in general. I thought the way Reese handled herself was great, but Mase seemed far too oblivious for too long about the situation.
And who knew I would fall so hard in love with River "Captain" Kipling. I am actually more than a little excited for his book! IF HE IS THE CAPTAIN, YOU BET YOUR ASS I WILL BE ON THAT SHIP! *winks* I just love him and his candid attitude. He is smooth, sexy, and kind of a jerk because he is too honest for his own good, but he really is just perceptive and thoughtful. Plus, he gives some good advice.
"Don't let your weakness define you, Reese. Ever. Your strengths should define you."
I adored and liked this book! The characters are oh-so easy to love, it has an emotional storyline that kept me glued to my seat for hours on end, and OH MY GOD a twist that I never would have seen coming!
When You're Back packs some serious emotions. I laughed, I swooned, I loved, I hated and I cried. And, by the end, I completely understood that when life throws that curve ball and you have the wind knocked out of you, it is ultimately in your hands the way you deal with it whether you stay down, or you get back up and live.