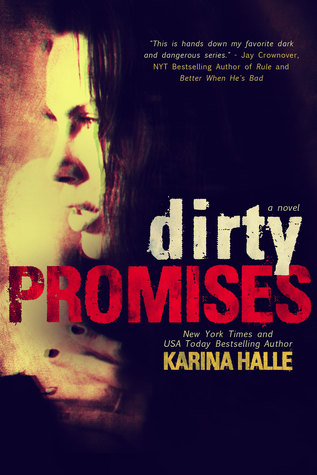 Summary:
Blood. Sex. Revenge.
It ain't easy being king.
Drug lord Javier Bernal has sliced and diced his way to the top of the Mexican drug trade, presiding over the country's largest cartel. But his rise to power comes at a brutal price: the death of his sister, Alana. Devastated and wracked with guilt, he turns away from his new wife, Luisa, forcing their marriage into a steady decline. But it isn't until she's pushed into the waiting arms of Esteban Mendoza, his right-hand man, that Javier realizes everything he's lost.
And it isn't until he learns the truth about Alana, that he realizes everything there is to gain.
Blood will spill.
Cities will burn.
Heads will roll.
Because Javier will stop at nothing until he gets what he wants.
And what he wants is raw, ruthless revenge.
The most dangerous man is the one with nothing left to lose.
Review:
**6/5 DIRTY STARS**
"Note from the Author:

Check your morals at the door – this isn't your typical romance. These are bad people. They do bad things. They are immoral. Depraved. Ruthless and brutal. They seem to lack scruples at times. Please keep this in mind when you read this book or you're going to have a very rude awakening. But if you like rude … go right ahead."
Going into Dirty Promises by Karina Halle, I knew that it would be brutal.  With this being sad, I still got surprised by its intensity and depravity. It really is the most disturbing and dark book she has written to this date and I LOVED IT. My mind is still trying to wrap itself around the awesomeness of this book. You could feel the raw, gritty and gripping writing throughout ever page! IT WAS GOOD SHIT! I'M BLOWN AWAY!
But again, read at your own risk as this book is not for the faint-hearted!!!
With my penchant for dark and flawed hero, you all should know by now that Javier Bernal is one of my favorites. (But there were moments that I wanted to fight him in this book.) He is a drug lord– ruthless, depraved, blood thirsty, unremorseful, and determined. The embodiment of an anti-hero.
Luisa is a strong woman (and this book really strengthen that assessment). Equally determined and ruthless. They are the King and Queen. Match made in hell. (And yes, I loved them together.) They've been ruling the Mexican Cartel in unity and they are a powerful and formidable team.
It was only him and it was only me. King and Queen. That's all that existed in this rusted, bloody space, between these two tortured, filthy souls.
But now, Javier is devastated after losing his sister. Consumed with guilt and rage, he started to pull away from Luisa. With a traitor lurking, this distance causes a grave betrayal and loss.
I'm not going to say much more in regards to the storyline because I don't want to spoil the book. It's for the best reader goes in blind into this one because it's a thrilling ride.
it is: RAW, EDGY, DISTURBING, SEXY, HOT, INTENSE, BRUTAL, UNFORGIVING AND INCREDIBLE
Overall, THIS BOOK CONSUMED ME. The imagery was so vivid and tangible, all my feelings and thoughts revolved around the story. There are parts in this book that left me breathless, speechless…holy shit. Honestly, just… WOW. I can't say anymore because there is so, so, so much that goes on here that by the time I finished I felt like I had been on a wild journey. I couldn't put it down! And even after days of reading it, I still can't get over! This is the testament to how damn powerful and amazingly written this book is. Dirty Promises is Karina Halle's masterpiece. And I don't even feel like that statement is an exaggeration.