Hi all! We've been thinking that there are some awesome book series out there, but there are even more amazing standalone books that are being begged to be read. So we thought we'd share our favorite standalones with you right here! Let us know down in the comments which one you've read or if you have a great book you would recommend.
The Song of Achilles by Madeline Miller 
A tale of gods, kings, immortal fame, and the human heart, The Song of Achilles is a dazzling literary feat that brilliantly re-imagines Homer's enduring masterwork, The Iliad. An action-packed adventure, an epic love story, Miller's debut novel has already earned resounding acclaim from some of contemporary fiction's brightest lights. Fans of Mary Renault, Bernard Cornwell, Steven Pressfield, and Colleen McCullough's Masters of Rome series will delight in this unforgettable journey back to ancient Greece in the Age of Heroes.
The Night Circus by Erin Morgenstern
The circus arrives without warning. No announcements precede it. It is simply there, when yesterday it was not. Within the black-and-white striped canvas tents is an utterly unique experience full of breathtaking amazements. It is called "Le Cirque des Reves," and it is only open at night.
Read a review about The Night Circus here.
The Sea of Tranquility by Katja Millay
I live in a world without magic or miracles. A place where there are no clairvoyants or shapeshifters, no angels or superhuman boys to save you. A place where people die and music disintegrates and things suck. I am pressed so hard against the earth by the weight of reality that some days I wonder how I am still able to lift my feet to walk.
Read a review about The Sea of Tranquility here.
Tiger Lily by Jodi Lynn Anderson
Before Peter Pan belonged to Wendy, he belonged to the girl with the crow feather in her hair…
Fifteen-year-old Tiger Lily doesn't believe in love stories or happy endings. Then she meets the alluring teenage Peter Pan in the forbidden woods of Neverland and immediately falls under his spell.
Read a review about Tiger Lily here.
Infinity + One by Amy Harmon
When two unlikely allies become two unwitting outlaws, will two unforgettable lovers defy unbeatable odds?
Bonnie Rae Shelby is a superstar. She's rich. She's beautiful. She's impossibly famous. And Bonnie Rae Shelby wants to die.
Finn Clyde is a nobody. He's broken. He's brilliant. He's impossibly cynical. And all he wants is a chance at life.
One girl. One boy. An act of compassion. A bizarre set of circumstances. And a choice – turn your head and walk away, or reach out your hand and risk it all?
Dash and Lily's Book of Dares by Rachel Cohn & David Levithan
"I've left some clues for you.
If you want them, turn the page.
If you don't, put the book back on the shelf, please."
So begins the latest whirlwind romance from the bestselling authors ofNick & Norah's Infinite Playlist. Lily has left a red notebook full of challenges on a favorite bookstore shelf, waiting for just the right guy to come along and accept its dares. But is Dash that right guy?
Read a review about Dash and Lily's Book of Dares here.
The Summer of Chasing Mermaids by Sarah Ockler 
The youngest of six talented sisters, Elyse d'Abreau was destined for stardom—until a boating accident took everything from her. Now, the most beautiful singer in Tobago can't sing. She can't even speak.
Read a review about The Summer of Chasing Mermaids here.
Tiny Pretty Things by Sona Charaipotra & Dhonielle Clayton 
Gigi, Bette, and June, three top students at an exclusive Manhattan ballet school, have seen their fair share of drama. Free-spirited new girl Gigi just wants to dance—but the very act might kill her. Privileged New Yorker Bette's desire to escape the shadow of her ballet star sister brings out a dangerous edge in her. And perfectionist June needs to land a lead role this year or her controlling mother will put an end to her dancing dreams forever. When every dancer is both friend and foe, the girls will sacrifice, manipulate, and backstab to be the best of the best.
Read a review about Tiny Pretty Things here.
Aristotle and Dante Discover the Secrets of the Universe by Benjamin Alire Saenz 
Aristotle is an angry teen with a brother in prison. Dante is a know-it-all who has an unusual way of looking at the world. When the two meet at the swimming pool, they seem to have nothing in common. But as the loners start spending time together, they discover that they share a special friendship—the kind that changes lives and lasts a lifetime. And it is through this friendship that Ari and Dante will learn the most important truths about themselves and the kind of people they want to be.
Read a review about Aristotle and Dante Discover the Secrets of the Universe here.
Beauty Queens by Libba Bray
When a plane crash strands thirteen teen beauty contestants on a mysterious island, they struggle to survive, to get along with one another, to combat the island's other diabolical occupants, and to learn their dance numbers in case they are rescued in time for the competition. Written by Libba Bray, the hilarious, sensational, Printz Award-winning author of A Great and Terrible Beauty and Going Bovine. The result is a novel that will make you laugh, make you think, and make you never see beauty the same way again.
Archer's Voice by Mia Sheridan
Archer's Voice is the story of a woman chained to the memory of one horrifying night and the man whose love is the key to her freedom. It is the story of a silent man who lives with an excruciating wound and the woman who helps him find his voice. It is the story of suffering, fate, and the transformative power of love.
Practice Makes Perfect by Julie James
Payton Kendall and J.D. Jameson are lawyers who know the meaning of objection. A feminist to the bone, Payton has fought hard to succeed in a profession dominated by men. Born wealthy, privileged, and cocky, J.D. has fought hard to ignore her. Face-to-face, they're perfectly civil. They have to be. For eight years they have kept a safe distance and tolerated each other as coworkers for one reason: to make partner at the firm.
But all bets are off when they're asked to join forces on a major case. Though apprehensive at first, they begin to appreciate each other's dedication to the law—and the sparks between them quickly turn into attraction. But the increasingly hot connection does not last long when they discover that only one of them will be named partner. Now it's an all-out war. And the battle between the sexes is bound to make these lawyers hot under the collar.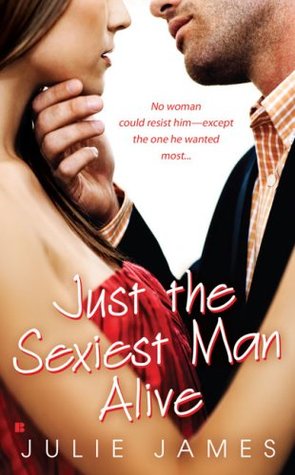 Just the Sexiest Man Alive by Julie James
Nothing fazes Taylor Donovan. In the courtroom she never lets the opposition see her sweat. In her personal life, she never lets any man rattle her—not even her cheating ex-fiancé. So when she's assigned to coach People's "Sexiest Man Alive" for his role in his next big legal thriller, she refuses to fall for the Hollywood heartthrob's charms. Even if he is theJason Andrews.
Jason Andrews is used to having women fall at his feet. When Taylor Donovan gives him the cold shoulder, he's thrown for a loop. She's unlike any other woman he's ever met: uninterested in the limelight, seemingly immune to his advances, and shockingly capable of saying no to him. She's the perfect challenge. And the more she rejects him, the more he begins to realize she may just be his perfect match.
Hero by Samantha Young
Alexa Holland's father was her hero—until her shocking discovery that she and her mother weren't his only family. Ever since, Alexa has worked to turn her life in a different direction and forge her own identity outside of his terrible secrets. But when she meets a man who's as damaged by her father's mistakes as she is, Alexa must help him.
 All the Rage by Courtney Summers
The sheriff's son, Kellan Turner, is not the golden boy everyone thinks he is, and Romy Grey knows that for a fact. Because no one wants to believe a girl from the wrong side of town, the truth about him has cost her everything—friends, family, and her community. Branded a liar and bullied relentlessly by a group of kids she used to hang out with, Romy's only refuge is the diner where she works outside of town. No one knows her name or her past there; she can finally be anonymous. But when a girl with ties to both Romy and Kellan goes missing after a party, and news of him assaulting another girl in a town close by gets out, Romy must decide whether she wants to fight or carry the burden of knowing more girls could get hurt if she doesn't speak up. Nobody believed her the first time—and they certainly won't now — but the cost of her silence might be more than she can bear.
Read a review about All the Rage here
 I'll Give You the Sun by Jandy Nelson
Jude and her twin brother, Noah, are incredibly close. At thirteen, isolated Noah draws constantly and is falling in love with the charismatic boy next door, while daredevil Jude cliff-dives and wears red-red lipstick and does the talking for both of them. But three years later, Jude and Noah are barely speaking. Something has happened to wreck the twins in different and dramatic ways . . . until Jude meets a cocky, broken, beautiful boy, as well as someone else—an even more unpredictable new force in her life. The early years are Noah's story to tell. The later years are Jude's. What the twins don't realize is that they each have only half the story, and if they could just find their way back to one another, they'd have a chance to remake their world.
 Two Boys Kissing by David Levithan
While the two increasingly dehydrated and sleep-deprived boys are locking lips, they become a focal point in the lives of other teen boys dealing with languishing long-term relationships, coming out, navigating gender identity, and falling deeper into the digital rabbit hole of gay hookup sites—all while the kissing former couple tries to figure out their own feelings for each other.
 Ketchup Clouds by Annabel Pitcher
Secrets, romance, murder and lies: Zoe shares a terrible secret in a letter to a stranger on death row in this second novel from the author of the bestselling debut, My Sister Lives on the Mantelpiece.
Fifteen-year-old Zoe has a secret—a dark and terrible secret that she can't confess to anyone she knows. But then one day she hears of a criminal, Stuart Harris, locked up on death row in Texas. Like Zoe, Stuart is no stranger to secrets. Or lies. Or murder.
Full of heartache yet humour, Zoe tells her story in the only way she can—in letters to the man in prison in America. Armed with a pen, Zoe takes a deep breath, eats a jam sandwich, and begins her tale of love and betrayal.