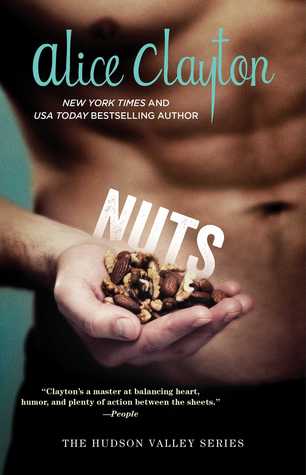 Summary:
After losing almost all of her clients in one fell swoop following an accident involving whipped cream, private chef to Hollywood's elite Roxie Callahan gets a call from her flighty mother, saying she's needed home in upstate New York to run the family diner. Once she's back in the Hudson Valley, local organic farmer Leo delivers Roxie a lovely bunch of walnuts, and soon sparks—and clothing—begin to fly. Leo believes that everything worth doing is worth doing slowly…and how! But will Roxie stay upstate, or will the lure of West Coast redemption tempt her back to Tinseltown?
Review:
Alice Clayton has done it again! Nuts was brilliant, sexy, hilarious and just all around a light and fun read. This book is the epitome of all things that are good in life…LOVE… LAUGHTER … AND FOODS.
Roxie is a personal chef to the rich and famous in L.A. (By the way, I squealed like a girl when Jake and Grace of the Redhead series made a brief appearance as one of Roxie's clients/friends. I've missed them!) However, an ill-fated mistake caused her to lose almost all of her clients.  Her mother then asked for her help back in Hudson Valley to keep their family's Diner.  She wasn't fond of her home town but she reluctantly agreed with a deal that she will only stay there for the summer. Roxie is also not a fan of serious relationship. She only do hook ups because she believes that love is messy and hardly seems worth it. But then a certain farmer named Leo Maxwell stumbled his way to her lap, literally. Will he be the one who can  prompt her to change her outlook on her small town and makes her bet all in on love?
Pin 1. Don't get involved.
Pin 2. Enjoy the penis. Engage no other organ,
Pin 3. Attachments are for suckers. See also Mom.
Pin 4. Falling in love sucks.
It is so easy to fall into love with every character that Ms. Clayton writes and Nuts is no different. .She does a great job with her main characters, but she also gets you invested in the secondary characters. Roxie and Leo share great chemistry together but their friends were also a great addition You instantly want to become one of their friend as well.
You didn't really bring me beets, did you?"…
"I did," he murmured, his thumbs sliding underneath my T-shirt the tiniest bit. "I brought mad beets."
"Oh man…Did you bring me anything else?"
He brought his face back to mine, tinged with the slightest of blush. "I hesitate to say it now."
"What did you bring?" I asked, shaking his shoulders.
He buried his head once again into my neck. "A really big zucchini…"
Ms. Clayton knows how to keep true to each characters personality and the shenanigans are hysterical. The dialogues flow effortlessly, the banter believable and the comedy is natural. Their interactions are endearing, hot and funny.
"Are those nuts in your pocked, or you just glad to see me?"
"Both."
I can say that I liked it. The story is good, the characters are great, it is sexy and humorous… my favorite mix! However, it was not that captivating as I wanted it to be. The beginning started off a bit slow and boring. A good portion of this book is a vivid and thorough description of farming, cooking and catering business. I know it's the premise of the story and I love learning about this beautiful process, but there are just too much discussions about it that it become too technical and has a how-to-book feel to it, it become lackluster. Fortunately, as it progress, the book became quite engaging and sexy as hell.
"And when I exited the bathroom, I stepped right into my own John Hughes movie. There stood Leo, leaning against the wall across from me, one leg bent at the knee. His head was down, and he did a slow, knee-bucklingly sexy look up to see me. Then he kicked off from the wall and walked—no, stalked toward me like the sexiest predator you've ever seen."

Overall, it was still a good read. So if you love Clayton's witty humor and steamy romance then this book is for you!