New month, new books! Do you also have trouble keeping up with when which book comes out? We know the feeling.. That's why we will post an overview every month of the books that come out in that month. Which book are you most excited for this month? 
Nov 1st
The Game Plan (Game On #3) by Kristen Callihan
A beard-related dare and one hot-as-hell kiss changes everything.
NFL center Ethan Dexter's focus has always been on playing football and little else. Except when it comes to one particular woman. The lovely Fiona Mackenzie might not care about his fame, but she's also never looked at him as anything more than one of her brother-in-law's best friend. That ends now. (more)
Nov 3rd
 Cam Girl by Leah Raeder
Vada Bergen is broke, the black sheep of her family, and moving a thousand miles away from home for grad school, but she's got the two things she loves most: her art and her best friend—and sometimes more—Ellis Carraway. Ellis and Vada have a friendship so consuming it's hard to tell where one girl ends and the other begins. It's intense. It's a little codependent. And nothing can tear them apart. Until an accident on an icy winter road changes everything. (more)
 Untamed (Thoughtless #4) by S.C. Stephens
The spotlight doesn't only shine. Sometimes it burns.
Being the bad-boy bassist for the world's hottest band has earned Griffin Hancock some perks: a big house, a fast car, and most importantly his incredible wife, Anna. The one thing it hasn't brought him is the spotlight(more)
Nov 10th
 November 9 by Colleen Hoover
Fallon meets Ben, an aspiring novelist, the day of her scheduled cross-country move. Their untimely attraction leads them to spend Fallon's last day in L.A. together, and her eventful life becomes the creative inspiration Ben has always sought for his novel. Over time and amidst the various relationships and tribulations of their own separate lives, they continue to meet on the same date every year. (more)
 Soundless by Richelle Mead
For as long as Fei can remember, there has been no sound in her village, where rocky terrain and frequent avalanches prevent residents from self-sustaining. Fei and her people are at the mercy of a zipline that carries food up the treacherous cliffs from Beiguo, a mysterious faraway kingdom.
When villagers begin to lose their sight, deliveries from the zipline shrink and many go hungry. Fei's home, the people she loves, and her entire existence is plunged into crisis, under threat of darkness and starvation. (more)
 Winter (The Lunar Chronicles #4) by Marissa Meyer
Princess Winter is admired by the Lunar people for her grace and kindness, and despite the scars that mar her face, her beauty is said to be even more breathtaking than that of her stepmother, Queen Levana. Winter despises her stepmother, and knows Levana won't approve of her feelings for her childhood friend–the handsome palace guard, Jacin. But Winter isn't as weak as Levana believes her to be and she's been undermining her stepmother's wishes for years. (more)
 Unforgiven (Fallen #5) by Lauren Kate
High school can be hell. Cam knows what it's like to be haunted. He's spent more time in Hell than any angel ever should. And his freshest Hell is high school, where Lilith, the girl he can't stop loving, is serving out a punishment for his crimes. Cam made a bet with Lucifer: he has fifteen days to convince the only girl who really matters to him to love him again. (more)
Nov 16th
 More Than Enough (More Than #5) by Jay McLean
There's no emotion greater than fear. No ache greater than grief. No sound greater than silence. I'm grateful he showed up on my doorstep,
pissed off and angry at the world. If he hadn't, I wouldn't be here. And I don't just mean here on this journey with him. I mean here, in this world. (more)
 Right Where You Are by L.E. Bross
Avery Melrose is used to having it all. So when her boyfriend cheats on her, she reacts like any spoiled rich girl-she freaks out and vandalizes his new truck, Carrie Underwood style. Now she's stuck with 300 hours of community service doing road-side garbage duty. (more)
Nov 17th
 Angels Twice Descending (Tales from the Shadowhunter Academy #10) by Cassandra Clare and Robin Wasserman
Someone lives and someone dies at Simon's Ascension ceremony. (more)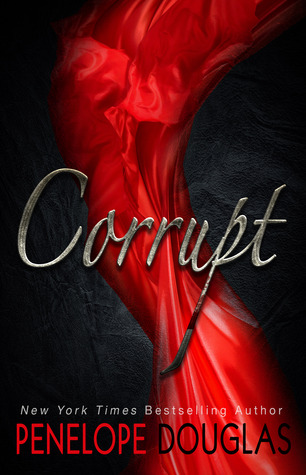 Corrupt by Penelope Douglas
Erika
I was told that dreams were our heart's desires. My nightmares, however, became my obsession.
His name is Michael Crist.
My boyfriend's older brother is like that scary movie that you peek through your hand to watch. He is handsome, strong, and completely terrifying. The star of his college's basketball team and now gone pro, he's more concerned with th(more)
Nov 20th
 Long Way Down (Calloway Sisters #4) by Becca and Krista Ritchie
Daisy & Ryke's POV
(no blurb here yet, but WE ARE ALL SO FREAKING EXCITED FOR MORE RAISY!!!)
(more)