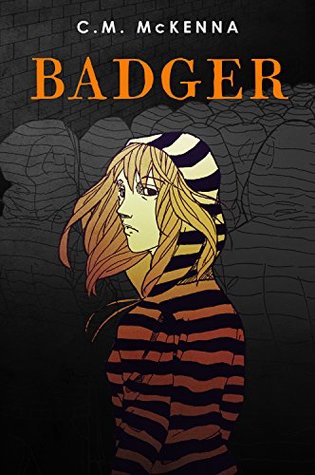 Summary:
Nearly twelve months sober, Adrian Birch feels like a nobody. But when her wrist is broken in a hit-and-run accident, she's avenged by the Badger, a secretive street vigilante. Instantly obsessed, Adrian takes to staging suicide and constructing chance meetings to get his attention. Their resulting affair is harsh and needy, wrought with McKenna's signature dark eroticism—until the connection gets out of hand and ignites the violent passions of the city.
Review:
***6 (yep, 6 because 5 is not enough) STARS***
Is there a word beyond 'exceptional' that I can use? I need it. I'm reaching for it. But I literally just finished reading the book and I'm so much in awe of it I just can't. I'm completely at a loss for words. I'm blown away.
Honestly, just…
It is brutally honest, unforgiving, unsettling, deeply thought provoking and poignant.
The plot and storyline are astonishingly brilliant and profound.
The voice is cynical and darkly compelling.
THIS BOOK NEEDS TO BE READ! Adrian and The Badger's story needs to be experience!!
It is honestly nothing like I've ever read before. I don't even know what genre to put it on. It throws the rule book away and writes one all of its own. Romance? Nope, it's so much more than that. Neo-noir? Maybe. But one thing is for sure, no matter what I say, nothing will prepare you from the flawlessly fucked-up story.
Ok so in paper it seems like the same subject written about countless times. A completely damaged man and a woman trying to rebuild her life find themselves drawn to each other. But the author takes this subject that surpasses the predecessors. It's like a breath of fresh air.
But I'm not gonna lie, it was a tough read. I really, really struggled reading some of the scenes or parts about the Badger's past. It will push you away from comfort zones. You will be tested morally. You will be provoked. You will feel extreme emotions. But all of that are worth it. 
Why? Because Cara McKenna written it so beautifully. The imagery is so vivid, gritty and raw. It commands you to read beyond words, to feel and see and ponder. She created two characters that are flawed and complex. Those two made a beautifully tragic and deeply intense journey. It's one of the most powerful stories I've ever come across. Hands fucking down, MY BEST READ THIS YEAR!!
I have to warn you though, you need tissues for this one. It's so damn painful. I was literally a mess at the end of it. My heart actually still aches just thinking about it. I just


But it will hurt so good. I mean I felt like my heart had been bruised and yet I loved the book so much.
It's morose, so dark and disturbing but has an injection of sarcasm and irony courtesy of the heroine's voice, that makes it dryly humorous and engrossing. 
It's perfect. It's perfect in every image and line. Cara McKenna is such a master of language and story-telling. I could't praise this book enough. So yes I'm imploring you, please please read this very unique story. Though I'll be honest, I still don't know how to move on from it. It will surely stay with me for a very long time.
———————————————————————–